Crankshaft Straightening and Checking Presses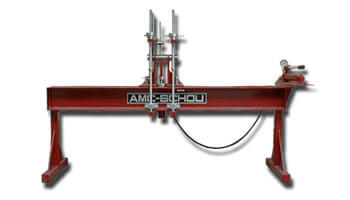 TECHNICAL SPECIFICATIONS

CP 1800

CP 2700

Max. length of crankshafts

mm
inch

1830
72

2740
107.8

Max. journal diameter

mm
inch

127
5

150
5.91

Height from length of V-block to bed

mm
inch

150
5.91

205
8.07

Height table to top of guard

mm
inch

790
31.1

790
31.1

Max. press

kg
lbs

10000
22000

20000
44000

Dimensions

Height of machine

mm
inch

1040
40.9

1350
53.1

Total length of machine

mm
inch

1905
75

3040
119.7

Total width of machine

mm
inch

635
25

635
25

Net. weight approx.

kg
lbs

130
286

380
836

Shipping weight approx. (wooden box)

kg
lbs

280
616

450
990

Shipping volume

m³
ft³

2.89
102

3.66
129,2
We are engaged in a continuous process of improving our machines. The details associated with any descriptions, specifications and illustrations shown may thus vary without further notice.
· Simple Operation
· Straightening at seat of distortion
· Robust hydralic 2-speed pump with pressure gauge
· Spring-loaded finger nuts for easy location of V-blocks
· Interchangeable supporting brackets

The AMC-SCHOU CP-1800 crankshaft straightening press is designed for the straightening of crankshafts at the seat of distortion, for eksample in the con-rod journal, so that crankshaft balance is retained.
- The Benefits of Precision.