Crankshaft Grinding Machines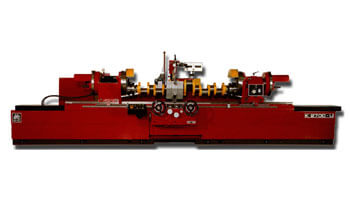 Size

K1200

K1500

K2000

K2700

K3700

K4000

K6000

Suffix option

U ☑

P ☑

C ☒

U ☑

P ☑

C ☑

U ☑

P ☑

C ☑

U ☑

P ☑

C ☑

U ☑

P ☑

C ☑

U ☒

P ☒

C ☒

U ☒

P ☒

C ☒

CNC-HD☒

CNC-HD☒

CNC-HD☑

CNC-HD☒

CNC-HD☒

CNC-HD☑

CNC-HD☑

Max Dis between chucks

mm
inch

1200
47.2

1625
64

2250
89

2750
108

4200
165.3

3500
138

Max Dis between centers

mm
inch

1220
48

1600
63

2190
86

2750
108

4200
165.3

Swing Diameter

mm
inch

460
18

690/750
27/29.5

690/750
27/29.5

690/750
27/29.5

750
29.5

1100
43

Max Stroke

mm
inch

160
6.3

280
11

280
11

280
11

280
11

380
14.96

Steady Rest, Standard min capacity

mm
inch

20
0.8

25
1

25
1

25
1

25
1

Steady Rest, Standard max capacity

mm
inch

100
4

180
7

180
7

180
7

180
7

Max. workpiece diameter – new wheel

mm
inch

410
16

600
23.5

600
23.5

600
23.5

600
23.5

Max. workpiece diameter with chucks

mm
inch

155
6

190
7.5

250
10

250
10

275
10.8

380
15

Max. weight between chucks

kg
lbs

400
880

1000
2200

1000
2200

1400
3080

1400
3080

2000

Workpiece rotate stepless

rpm

20-100

15-90

15-90

15-90

15-90

1-90

Table speed manually

mm/rev
inch/rev

5
0.2

5
0.2

5
0.2

5
0.2

5
0.2

Table speed stepless

mm/min
inch/min

5-4000
0-158

5-4000
0-158

5-4000
0-158

5-4000
0-158

5-4000
0-158

1-3000
0-118

Wheel slide rapid movement

mm/min
inch/min

3000
118

3000
118

3000
118

3000
118

3000
118

Grinding wheel speed

rpm

940

760

760

760

760

Motor

Grinding wheel motor

kW
hp

4.0
5.5

5.5
7.5

5.5
7.5

7.5
10

7.5
10

20

Workhead motor (hydralic motor for U only)

l/min
gal/min

25
5.5

25
5.5

25
5.5

25
5.5

25
5.5

Hydraulic power pump ( U only)

kW
hp

2.2
3

2.2
3

2.2
3

2.2
3

2.2
3

Coolant pump

kW
hp

0.16
0.21

0.16
0.21

0.16
0.21

0.16
0.21

0.16
0.21

Dimension

Grinding wheel diameter

mm
inch

660
26

813
32

813
32

813
32

813
32

1100
43

Min. grinding wheel width

mm
inch

19
0.75

19
0.75

19
0.75

19
0.75

19
0.75

Max. grinding wheel width

mm
inch

50
2

50
2

50
2

63.5
2.5

63.5
2.5

Height floor to spindle centre

mm
inch

1120
44

1120
44

1120
44

1120
44

1180
46.5

Height of machine

mm
inch

1475
58

1550
61

1550
61

1550
61

1610
63.4

Total length of machine

mm
inch

2950
116.1

3700
145.6

4795
188.8

6000
237.2

9500
374

Total width of machine

mm
inch

1750
68.9

2030
80

2030
80

2030
80

2030
80

Floor plan

mm
inch

4220x1700
166.1x66.9

5405x2030
212.8x80

7045x2030
277.4x80

8850x2030
348.4x80

12500x2100
492.1x82.7

Net. weight approx.

kg
lbs

3300
7260

4800
10560

5600
12320

6700
14740

7900
17380

Shipping weight approx. (wooden box)

kg
lbs

3850
8470

5560
12232

6600
14520

7800
17160

9200
20240

Shipping volume

m³
ft³

11.1
391.9

14.6
515.5

18.7
660.3

23.3
822.7

33,5
1182.9
We are engaged in a continuous process of improving our machines. The details associated with any descriptions, specifications and illustrations shown may thus vary without further notice.
Standard Equipment: Universal chucks, set-up indicator, steady rest, crank centering V-gauge, radius dresser, front & side dresser, wheel balancing arbour,grinding wheel and hub, lifting hook, coolant system, splash guards, set of tools and operating manual.
Extra Equipment:Belt polisher, automatic sizing gauge, electronic in-process control, extra grinding wheels and hubs, hydraulic dresser, light weight and heavy-duty steady rests, inside counterweights, gauge for measuring crank sag, device for measuring length of stroke, axial journal control, device for control of throw setting, rear stop for grinding all diameters, auxiliary tool stand, automatic band filter, manual band filter, CE safety guards, increased swing from 690 mm (27") to 750 mm (29.5").
· Hydraulically operated wheel slide movement
· Hydraulically operated face-plate locking pins
· Infinitely variable table traverse (U-machines)
· Hydraulically operated tailstock (U-machines)
· SKF double tapered roller bearings in head- and tailstock
· Antifriction non-stick coating underneath table
· Maintenance free hardened ballscrews and nuts
· Rapid backlash-free stroke setting
· Standard oil cooler on hydraulic power station
AMC-SCHOU crankshaft grinders are built to last with extra-strong castings to ensure stability and long life. All bearings are over-dimensioned to maximise reliability. Antifriction coating eliminates stick-slip effect. Fast and accurate setting-up is ensured by the face-plate system with integrated four-way adjustment. Variable 30° and 72° indexing with +/- 1° fine adjustment is standard. Maintenance free hardened ballscrews and nuts ensure backlash free stroke setting in seconds
- The Benefits of Precision.
Setting-up System
Integrated 4-way adjustment allows easy, accurate and fast operations. Variable 30° and 72° indexing. Dynamic balance ensured by reading the headstock manometer.

Bearings

The double tapered SKF bearings in the head- and tailstocks are greased and sealed for life, ensuring trouble free operation for life.

Heavy-duty Set-up
In-process measuring gauge, heavy-duty steady rest, extra counterweights and belt polisher. The complete heavy-duty set-up for the largest crankshafts.