Surface Grinding Machines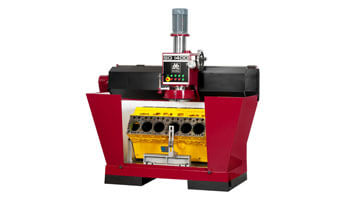 TECHNICAL SPECIFICATIONS

SG 1400

Max. grinding length

mm
inch

1400
55.1

Max. grinding width

mm
inch

340
13.4

Max. grinding width in special execution

mm
inch

390
15.4

Max. height of workpiece

mm
inch

850
33.5

Table surface

mm
inch

1400x600
55.1x23.6

Grinding wheel diameter

mm
inch

350
13.8

Grinding wheel diameter in special execution

mm
inch

400
15.7

Numbers of segments on grinding wheel

pcs

12

Vertical movement of wheelhead

mm
inch

240
9.4

Fine feed of wheelhead per graduation

mm
inch

0.01
0.0005

Wheelhead traverse speeds, stepless

mm/min
inch/min

800-3000
31.5x118.1

Capacity of coolant tank

l
gal

95
24.7

Motors

Grinding wheel motor

kW
hp

4
5.36

Grinding wheel traverse motor

kW
hp

0.75
1

Coolant pump

kW
hp

0.16
0.21

Dimensions

Height of machine

mm
inch

2260
88.9

Total length of machine

mm
inch

2290
90.2

Total width of machine

mm
inch

1160
45.7

Working space required

mm
inch

3000 x 1560
118.1 x 61.4

Net. weight approx.

kg
lbs

1540
3388

Shipping weight approx. (wooden box)

kg
lbs

1890
4158

Shipping volume

m³
ft³

7.41
261.65
We are engaged in a continuous process of improving our machines. The details associated with any descriptions, specifications and illustrations shown may thus vary without further notice.
Standard Equipment: tropicalized installation with grinding wheel motor, wheel traverse motor and coolant pump, 350 mm (13.77") grinding wheel head, wheel dresser, arbour for balancing of wheel head, 4 pairs of setting up blocks, central lubrication pump, puller for wheel head, clamps, bolts, spanners and splash guards.
Extra Equipment: 400 mm (15.7") grinding wheel head, milling attachments for both wheel heads, milling inserts, special setting-up fixtures for cylinder heads / V-engine blocks / manifolds, grinding segments for cast iron/aluminium/steel, grinding wheel balancing stand, alignment and depth control device, magnetic chucks, sensitive spirit level for work pieces, manual coolant band filter and more.
· Centrally lubricated
· Easy alignment and depth control (extra equipment)
· Built-in dresser for grinding wheel
· Easy block loading
The AMC-SCHOU Model SG 1400 is a wet grinding machine which can be used
by small and medium sized engine reconditioners as well as industrial grinding com-
panies. The space saving design, special guideway design and the telescopic guards
ensure top of the line results for many years.
- The Benefits of Precision.