Cylinder Block Boring and Milling Machines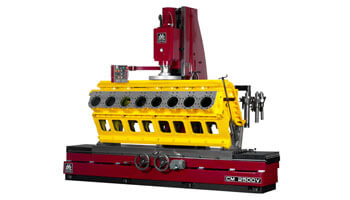 TECHNICAL SPECIFICATIONS

C/CM 1200V

CM 1800V

CM 2500V

Boring range

mm
inch

32-350
1.25-13.75

32-350
1.25-13.75

32-350
1.25-13.75

Max. boring head travel

mm
inch

780
30.7

780
30.7

780
30.7

Distance spindle head to column

mm
inch

410
16.1

410
16.1

510
20.1

Max. distance boring slide to table

mm
inch

1460
57.5

1460
57.5

1460
57.5

Spindle speed

rpm

50-1200

50-1200

50-1200

Boring feed

mm/min
inch/min

20-1500
0.8-59

20-1500
0.8-59

20-1500
0.8-59

Table surface

mm
inch

1525x450
60x17.7

2130x450
83.9x17.7

2540x600
100x23.6

Table traverse lengthwise

mm
inch

1350
53.1

2025
79.7

2675
105.3

Max. milling length(CM only)

mm
inch

1050
41.3

1725
79.7

2275
89.6

Table speed (CM only)

mm/min
inch/min

0-1200
0-47.2

0-1200
0-47.2

0-1200
0-47.2

Table movement crosswise

mm
inch

140
5.5

140
5.5

140
5.5

Max workpiece on machine

kg
lbs

1000
2640

1200
2200

2500
5500

Milling width (CM only)

mm
inch

300
11.8

300
11.8

400
15.7

Optional milling width

mm
inch

400
15.7

400/500
15.7/19.7

300/500
11.8/19.7

Max. distance between outer cylinder centres

mm
inch

1200
47.2

1800
70.9

2500
98.4

Motors

Spindle motor

kW
hp

4
5.5

4
5.5

4
5.5

Motor for boring feed

kW
hp

0.75
1

0.75
1

0.75
1

Motor for table feed

kW
hp

0.55
0.75

0.55
0.75

0.55
0.75

Dimensions

Work height required

mm
inch

3010
118.5

3010
118.5

3200
126

Height of column

mm
inch

2720
112

2720
112

2905
114.4

Total length of machine

mm
inch

2365
93.4

3330
131.1

3600
141.7

Total width of machine

mm
inch

1720
67.7

1720
67.7

1900
74.8

Working space required

mm
inch

3700x1720
145.7x67.7

5380x1720
211.8x67.7

6000x1900
236.2x74.8

Net. weight approx

kg
lbs

3200
7040

4500
9900

5800
12760

Shipping weight approx. (wooden box)

kg
lbs

3600
7920

5300
11660

6400
14080

Shipping volume m³

m³
ft³

9.30
328.4

15.84
559.3

22.72
802.2
We are engaged in a continuous process of improving our machines. The details associated with any descriptions, specifications and illustrations shown may thus vary without further notice.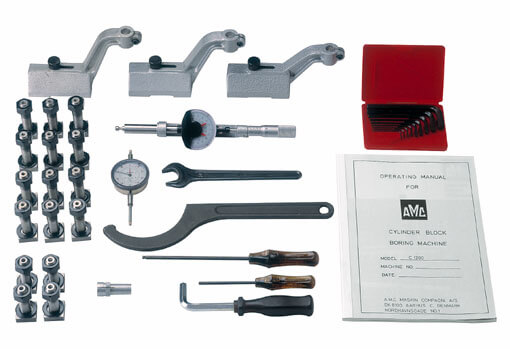 Standard Equipment: All machines are equipped with stepless motors, central lubrication, tool setting micrometers, setting-up blocks with bolts and spanners, depth control dial indicator, operating manual and more.
Extra Equipment: 7 boring spindles each with carbide tool holders and high-speed inserts (including centering and chamfering tools), carbide tipped boring tools (a tool grinder is also available), storage and loading fixture (for rapid spindle exchange), boring stands (universal and adjustable), roll-over fixtures for V-blocks, quick acting clamps, extra setting-up blocks and more.
· Powerful 4 kW (5.5 HP) motor for variable spindle speed
· Spindle rotation to 1200 r.p.m.
· motor for variable boring feeds
· 1500 mm/min (60 inch/min) fast spindle retraction from cylinder
· Table speed variable from 0-1200 mm/min (0-47 inch/min)
· Heavy-duty design

AMC-SCHOU cylinder block boring and milling machines are equipped with a new powerful motor for spindle rotation, and with throw-away inserts for the carbide tool holders which allow extremely fast re-boring of cylinders up to 350 mm (13.75"). All machines are equipped with automatic central lubrication. The spindles, dimensioned for life-long quality service, and the extremely sturdy machine construction are your guarantee of fast floor to floor times for many years - The Benefits of Precision.
Control Panel
Swivelling control panel with easy access controls for easy
operation. Allows the operator to work in the best possible
position.

Milling Operations
On all CM machines the milling head, complete with CBN cutters,can be easily adapted for milling operations.

Milling Heads with CBN cutters
CM machines, featuring infinitely variable table traverse, are equipped with milling head complete with 2 CBN cutters. By using only 2 CBN cutters speed & feed rates can be dramatically increased, resulting in great time savings on each milling operation. Lifting the guard gives access to easy replacing of the cutters.

Standard

Optional

CM 1200V

300 mm/ 11.8 inch

400 mm / 15.75 inch

CM 1800V

300 mm / 11.8 inch

400 & 500 mm /
15.75 & 19.7 inch

CM 2500V

400 mm / 15.75 inch

500 mm / 19.7 inch

Boring Spindles
A complete range of spindles allows boring from 32-350 mm (1.25"-13.75"). All spindles feature constant pre-loaded bearings and are sealed and greased for life.