Line Boring Machine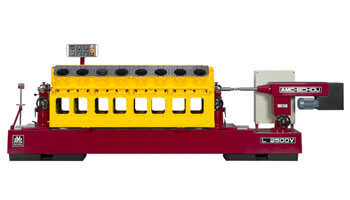 TECHNICAL SPECIFICATIONS

L 2500 V

Max. block length

mm
inch

2540
100

Max. distance from built-in parallels to boring bar

mm
inch

850
33.5

Spindle speeds

rpm

0-750

Fast feed

mm/min
inch/min

6-1000
0.3-39.4

Feed jog adjustable

mm/min
inch/min

6-1000
0.3-39.4

Feed jog high speed

mm/min
inch/min

1000
39.4

Max. boring bar travel

mm
inch

680
26.8

Motors

Drive motor for spindle

kW
hp

1.5
2

Drive motor feed

kW
hp

0.37
0.5

Dimensions

Height of machine

mm
inch

2200
86.6

Total length of machine

mm
inch

5100
200.8

Total width of machine

mm
inch

800
31.5

Working space required

mm
inch

7600 x 800
299.2 x 31.5

Net. weight approx.

kg
lbs

2700
5940

Shipping weight approx. (wooden box)

kg
lbs

3140
6908

Shipping volume

m³
ft³

12.82
452,7
We are engaged in a continuous process of improving our machines. The details associated with any descriptions, specifications and illustrations shown may thus vary without further notice.
Standard Equipment: tropicalized installation, drive head motor, 6 spindle speeds, 2 spindle feeds, remote hand feed control device, fixed parallels, setting up blocks (2 sets), overhead steady rest, boring bar shaft extension, tool setting micrometer with dial gauge, magnetic micrometer V-rest, 2 centering devices with dial indicators, 20 pcs. boring, facing and chamfering tools, clamps, bolts & spanners, operating manual and spare parts catalogue.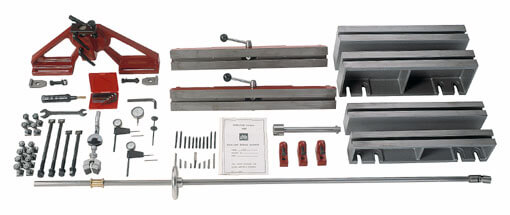 Extra Equipment: boring bars, cutterheads, off-set bracket bushings, sag measuring device for bars, radial facing attachment, internal measuring gauges, tool grinder, cap grinder, cutter head holder and more.
· Machine lengths; 2500 mm (98.4")
· 5 different boring bars available allowing boring up to 110 mm (4.33")
· Large selection of cutter tools as standard equipment
· Spindle speeds up to 750 r.p.m.
· Roughing and finishing feeds
Increased engine performance may result in warped blocks, necessitating reboring of main bearings and camshaft bearings. Thrust bearing faces can be damaged due to bearing seizure. Reboring of main bearings, camshaft bearings, reboring of cylinder head camshaft bores and repairing of thrust bearing faces are all easily done on the AMC-SCHOU line boring machine, giving years of quality service
- The Benefits of Precision.