Cap and rod grinding machine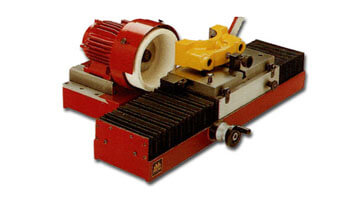 TECHNICAL SPECIFICATIONS

CRG 100

Max. outside dimension of cap

mm
inch

275
10.83

Max. width of cap

mm
inch

100
3.94

Grinding wheel diameter

mm
inch

180
7.1

Motor

Electrical motor

kW
hp

0.55
0.75

Dimensions

Height of machine

mm
inch

310
12.2

Total length of machine

mm
inch

760
29.9

Total width of machine

mm
inch

550
21.7

Net. weight approx

kg
lbs

90
198

Shipping weight approx. (wooden box)

kg
lbs

120
264

Shipping volume

m³
ft³

0.26
9.18

Net weight

kg
lbs

95
20
We are engaged in a continuous process of improving our machines. The details associated with any descriptions, specifications and illustrations shown may thus vary without further notice.

Standard Equipment: 0.55 kW motor (2800 rpm), 180 mm (7") grinding wheel, diamond tipped dressing tool, table with ball bearing guides for linear movement, setting-up table (both sides tiltable), grinding wheel slide incl. lead screw and scale, setting-up device for clamping on original bore, setting-up device with clamping bar.
Extra Equipment: Grinding wheel, diamond tipped dressing tool.
· Pivotable set-up
· Angle grinding allowed
· Easy grinding of caps with unmachined side faces
The AMC-SCHOU CRG 100 partner our line boring machine L 2500 V. It reduces the oversize diameter to undersize by grinding material off the matching faces of the rod and cap. Angle grinding is also possible. Improve the quality of your work on caps and rods with the CRG 100
- The Benefits of Precision.