Connecting Rod Aligner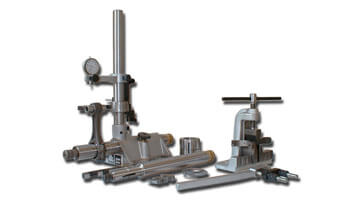 TECHNICAL SPECIFICATIONS

CRA-2

Max. length of con-rod

mm
inch

460
18.1

Max. distance between centers

mm
inch

405
16

2 Self-expanding arbors for diameters

mm
inch

34-106
1 3/8-4 3/16

Dimensions

Height of machine

mm
inch

670
26.4

Total length of machine

mm
inch

340
13.4

Total width of machine

mm
inch

420
16.5

Net. weight approx

kg
lbs

45
99

Shipping weight approx. (wooden box)

kg
lbs

60
132
We are engaged in a continuous process of improving our machines. The details associated with any descriptions, specifications and illustrations shown may thus vary without further notice.
· Includes special press for straightening bent connecting rods
· Available with millimetre or inch graduation
This AMC-SCHOU precision measuring tool provides a quick and accurate control of bend, twist and off-set of any type of connecting rod up to a length of 460 mm (18").
Any irregularity is easily remedied by means of the bending and twisting tools included in the standard equipment. The set is complete - no extra tools or intruments are needed.
- The Benefits of Precision.